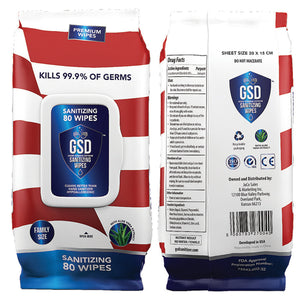 Our all-purpose sanitizing wipes are ultra-convenient for on-the-go use. The re-sealable pop-up lid is designed to keep the wipes moist. Keep a pack in your car, handbag, and home!
Pearl embossed anti-bacterial wipes with Benzalkonium Chloride for all purpose cleaning.

Hypoallergenic and made with aloe vera extract to keep your skin soft and protected while killing 99.9% of germs.
Family size - 80 wipes / packet
Pleasant scent and for multiple uses, including food preparation areas, baby equipment, furniture, door knobs and bath surfaces.

Safe for use on hard, non-porous surfaces daily.